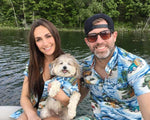 BRAND SPOTLIGHT – Q & A with Dog Threads
Almost since the day we opened the doors of our Boutique, FETCH in Huntington Village, N.Y., we have carried the adorable and always fresh collection from Dog Threads. We are so happy to kick off May 2018 with a Dog Threads Brand Spotlight and several new styles from their collection available both in our boutique and on-line. All Made and designed in the USA!

Owners & Designers Gina + Scott Davis + Thomas answered a few questions for us : )

Q: Can you tell us what inspired you to create the Dog Threads Brand?

Thomas has always loved dressing up but we could never find anything that suited his human-like personality. He wanted to wear Hawaiian party shirts and plaid button down shirts to the office, not rhinestones and skulls – which seemed like the only option for dogs at the time. We decided to make his own wardrobe tailored to his needs. As it turns out he wasn't alone. Soon the other pups wanted to get their paws on threads for themselves and so Dog Threads was born.




Q: Tell us about Thomas, the smiling face behind your brand?

Thomas is a 10 year old pomapoo-human who was born in Hollywood and now lives with his parents and employees in Minnesota. He loves freedom runs, napping, being the apple of his parent's eye and getting dressed up. He's not into socializing with dogs as he is humans. He thinks he's a big deal – and his parents know it's their fault.


Thomas in the Flamigo Fresh BBQ Shirt

Q: Do you have a favorite design from your collections past & present?

That is tough! Thomas has designed over 100 shirts in the past few years but our go-to fave is almost always a colorful Hawaiian Print BBQ Shirt. Unless it's Winter. Then he loves a good flannel with his grey Campus Cardigan over it.

Q: What are your favorite trends for Summer 2018?

Matching! We love seeing pupsters match their buddies and humans – it's always a sure way to get a stranger to crack a smile.




We want to thank Gina + Scott (and Thomas of course) for taking the time to answer our questions. We also want to mention that each purchase of a Dog Threads shirt benefits an animal in need.